Frozen 3D
Family, 108 min
Watch Trailer
When a prophecy traps a kingdom in eternal winter, Anna (voice of Kristen Bell), a fearless optimist, teams up with extreme mountain man Kristoff (voice of Jonathan Groff) and his sidekick reindeer Sven on an epic journey to find Anna's sister Elsa (voice of Idina Menzel), the Snow Queen, and put an end to her icy spell. Encountering mystical trolls, a funny snowman named Olaf, Everest-like extremes and magic at every turn, Anna and Kristoff battle the elements in a race to save the kingdom from destruction.
The Hunger Games: Catching Fire
Action, 146 min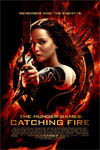 Watch Trailer
After winning the Hunger Games, Katniss (Jennifer Lawrence) and Peeta (Josh Hutcherson) return home to get ready to go on a Victory Tour of all 12 Districts. Before the tour, President Snow (Donald Sutherland) pays Katniss a visit, warning her that he knows she's faking her love for Peeta.
During the tour, the districts begin to rebel against the Capitol, prompting Snow to decide that there will be another Hunger Games, this time to include two previous winners from each district, hoping that Katniss will be killed.
As the only female winner from District 12, Katniss is chosen, but when Hamish (Woody Harrelson) is selected as the male contestant, Peeta volunteers. As they get ready for games, Hamish advises Katniss and Peeta to team up with some of the other 24 participants if they want a chance of surviving.