Dolphin Tale 2
G, Family, 107 min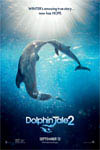 Watch Trailer
Several years earlier, Sawyer Nelson (Nathan Gamble) and the team at the Clearwater Marine Hospital in Florida, headed by Dr. Clay Haskett (Harry Connick, Jr.), rescued Winter the dolphin. They enlisted the help of Dr. Cameron McCarthy (Morgan Freeman), who developed a unique prosthetic tail for the injured dolphin, thereby saving her life.
When Winterís surrogate mother, an elderly dolphin named Panama, passes away, Winter is left without a pool mate. Not only is Winter lonely without her friend, but according to USDA regulations, dolphins, who are very social, can't be housed alone. Clearwater needed to find Winter another friend or lose her to another aquarium. When another baby dolphin needs rescuing, they may have just found the solution to their problem.
The Maze Runner
PG, Action, 113 min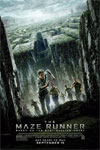 Watch Trailer
Teenager Thomas (Dylan O'Brien) is brought to a place called the Glade, a giant maze surrounded by vicious creatures called Grievers. He has no memories of anything in his life that happened before.
The Glade is inhabited by other teenage boys, all of whom have specific jobs to do. Over time, Thomas finds out that the boys have been trying to solve the Maze for two years and that a sting from the Grievers can cause you to recall memories from the past.
Each month, a new boy arrives, but soon after a girl arrives with a message saying she's the last one, she winds up in a coma. However, Thomas realizes he can hear her speaking in his head and when she wakes up, they form a bond. Along with the other boys, they try to figure out a way to escape.
Based on the young adult novel of the same name by James Dashner.