Fantastic Beasts and Where to Find Them
PG, Fantasy, 133 min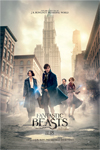 Watch Trailer
Seventy years before Harry Potter reads writer Newt Scamander's (Eddie Redmayne) book in school, the author enjoys adventures in New York's secret community of witches and wizards.
The spinoff film takes place in 1926, as Newt travels the globe to find and document magical creatures. But after completing a global excursion and arriving in New York for a brief stopover, his misplaced magical case leads to the escape of some of Newt's fantastic beasts in the No-Maj (American equivalent of "Muggle") world.
Based on the novel written by famed author J.K. Rowling, who wrote the Harry Potter books. She also wrote the screenplay for this movie.
Moana 3D
PG, Family, 103 min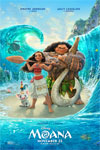 Watch Trailer
On a mystic island off Oceania in the South Pacific, young princess Moana Waialiki (voiced by Auli'i Cravalho) is the feisty teenage daughter of the chief of her tribe, and the only daughter in a long line of navigators. When her family needs her help, she sails off across the open Pacific ocean on an epic adventure to save her people.
Joined by the energetic, less-than-humble, once-powerful demigod Maui (voiced by Dwayne Johnson), Moana is determined to prove herself a master wayfinder and to fulfill her ancestors' unfinished quest. Along the way, she discovers her own identity on the mission, which also pits her against impossible odds and enormous monsters.