Finding Dory
G, Family, 97 min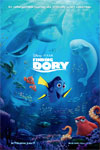 Watch Trailer
One year after her journey with Nemo, Dory (voice of Ellen DeGeneres) is curious about her past. Unfortunately for her, her memory doesn't offer much help. But with Nemo and Marlin (voice of Albert Brooks) by her side, she embarks on a journey to uncover her roots. Who are her parents? Where did she learn to speak Whale?
Eventually, and after encountering their fair share wild experiences, the trio manages to reunite Dory with her family. Their epic adventure teaches them more about the meaning of friendship and how truly important family is.
Independence Day: Resurgence
PG, Action, 120 min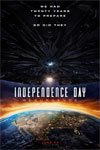 Watch Trailer
Using recovered alien technology after the last invasion in 1996, the nations of Earth have collaborated on a defense program called Earth Space Defense (ESD), which serves as the Earth's early warning system using technology salvaged from the remains of the alien forces.
Former President Whitmore (Bill Pullman) is still involved with the ESD, especially now that his daughter Patricia (Maika Monroe) is dating pilot Jake Morrison (Liam Hemsworth).
But nothing can prepare them for the aliens' next attack — and only the ingenuity of ESD director David Levinson (Jeff Goldblum), Jake and a few other brave men and women can bring our world back from the brink of extinction.