The Hunger Games: Mockingjay - Part 2
PG, Action, 137 min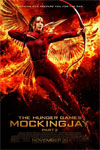 Watch Trailer
The rebels are close to winning the war. Peeta has been freed, but he's been brainwashed by the Capitol into believing Katniss (Jennifer Lawrence) is a mutt, whom he must kill. This puts Katniss in danger and the two are separated as the rebels try to take over the Capitol.
President Coin (Julianne Moore) and most of the surviving tributes, with the exception of Peeta (Josh Hutcherson), decide collectively to let the Capitol have a taste of their own medicine by holding a final Hunger Games in which the children of Capitol leaders will be the tributes.
Katniss still wants the right to personally kill President Snow (Donald Sutherland) once he is captured, but when the moment comes, she makes a surprising decision, one for which she may pay the ultimate price.
The Peanuts Movie
G, Family, 93 min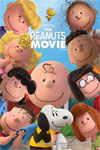 Watch Trailer
Charlie Brown wants to start his life over with a clean slate and show people he's a winner. Unfortunately, all his attempts at coming out on top, including practicing his baseball pitching, learning to dance and trying to impress a new girl, all fail.
However, he's encouraged along the way by his faithful dog Snoopy, and joined on the big screen by his best friend Linus and the rest of the gang, including Schroeder, Pig-Pen, Peppermint Patty, his sister Sally and Lucy.