Horrible Bosses 2
14A, Comedy, 108 min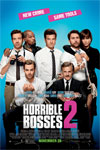 Watch Trailer
Nick (Jason Bateman), Dale (Charlie Day) and Kurt (Jason Sudeikis) decide to become their own bosses by launching their own business. But a slick investor soon takes control of their company. Desperate, the three friends hatch a plan to kidnap the investor's adult son and ransom him to regain control of their company.
The Hunger Games: Mockingjay - Part 1
PG, Action, 123 min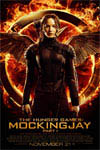 Watch Trailer
With Peeta (Josh Hutcherson) captured by Snow and taken prisoner in the Capitol, Katniss Everdeen (Jennifer Lawrence) reluctantly agrees to act as "the Mockingjay"—a poster child for the rebellion spearheaded by District 13.
She has one stipulation however—that District 13's President Alma Coin (Julianne Moore) promises immunity to all of the past Hunger Games tributes, including Peeta, and to give Katniss the right to personally kill President Snow (Donald Sutherland) once he is captured.